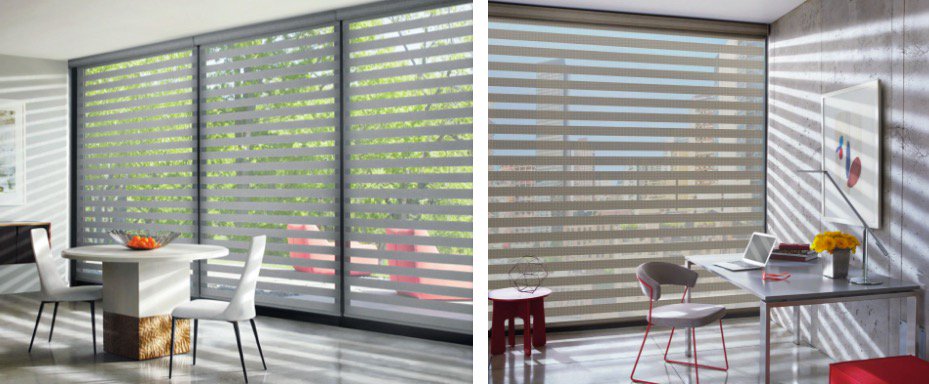 Designer Banded Shades combine sheer and solid alternating fabric bands into a single shade. This design concept allows the shade to transition from open to closed seamlessly, providing a modern solution for view-through, light control and privacy.
Dynamic geometric shapes create drama, dimensions and interest not only at the window, but also in the light that cascades into the room. These styles function like a traditional banded shade, but with a little added personality.
Designer Banded Shades feature a single piece of fabric that loops at the bottom bar to create a double layer of fabric in the window. When operated, the sheer and solid fabric bands transition seamlessly by each other. Shades can be positioned to either open or closed when they are in the raised or lowered position allowing for complete privacy, filtered light or view-through with a single shade.
The collection features styles in light filtering or room darkening. The specific opacity for each fabric is indicated on the style deck and in the product index. Select a fabric with the opacity that fits your light control needs.
The position of the solid fabric bands with the sheer fabric bands is what determines the amount of view-through.
The smaller the solid band height, the more sheer fabric bands per shade, which will maximize the view-through. The larger the solid band height, the fewer sheer bands per shade, minimizing the view to the outside. The sheer fabric bands when aligned may create a slight moiré effect creating a diffused view-through.
Designer Banded Shades are the foundation for your room. They can stand-alone as a strong design statement or pair with fabrics from the Hunter Douglas Design Studio collection to finish a window with flair. From modern to traditional and every style in between – be inspired.