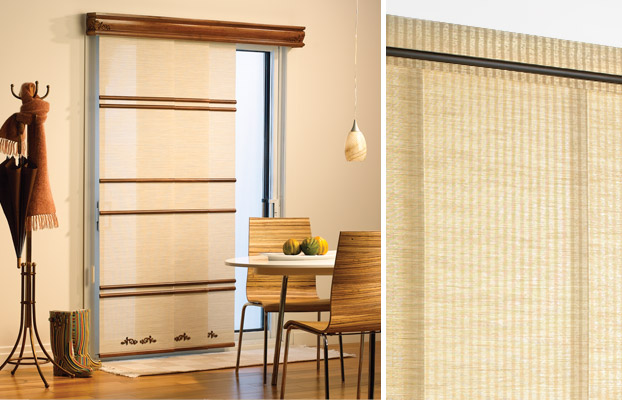 Panel tracks are an excellent solution for many different applications they could be used to cover a French doors, patio doors or big windows you can customize the panel tracks with a valance, mouldings, wood or faux wood appliqués.
These panel tracks are composed of three to six fabric panels attached to slides using Velcro. The slides, moving inside the tracks, make it possible to slide the panels from side to side.
The Panel track makes an elegant room divider.
Available in these fabrics: Opaque, Translucent and Transparent.
OPAQUE
Opaque fabrics are a PERFECT choice whether you are looking for privacy option or to block sunlight in your bedroom.
The opaque fabric blocks the light; it provides privacy day or night,
It also prevents fading of interior furnishings and acts as a thermal insulator.
Translucent
Using translucent fabrics is the way to optimize the lighting of your room. It will enhance the natural light of a small room and will provide some level of intimacy: it is ideal for a bathroom.
Translucent fabric filters light it reduces the reflection & glare in any room,
This fabric is easily maintained, PVC free and act as a thermal insulator.
Transparent
Are you looking to add some warmth to your atmosphere and still want the visibility and full luminosity then transparent fabrics are your perfect choice, without being too heavy, transparent shades are great to add to any space that you want to maintain the outdoor view.