Luminaris Vinyl Shutters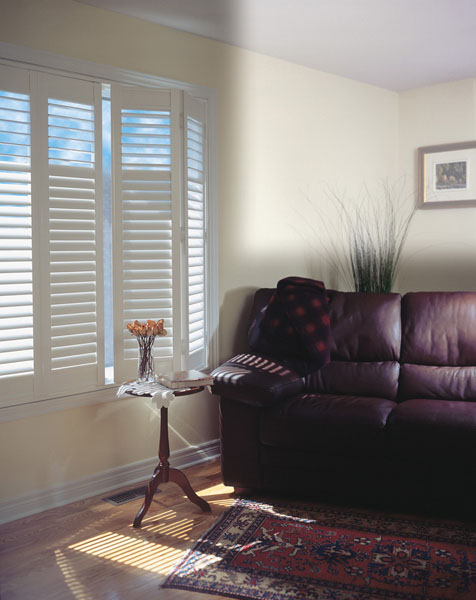 Luminaris Shutters provide the perfect blend of elegance, durability and modern functionality. The shutters are manufactured using the highest quality outdoor grade PVC. The material will resist discoloration from UV exposure as well as chipping, cracking, and warping. All plastic components and accessories are manufactured using the same fire- retardant, color-matched material resulting in a uniform finish.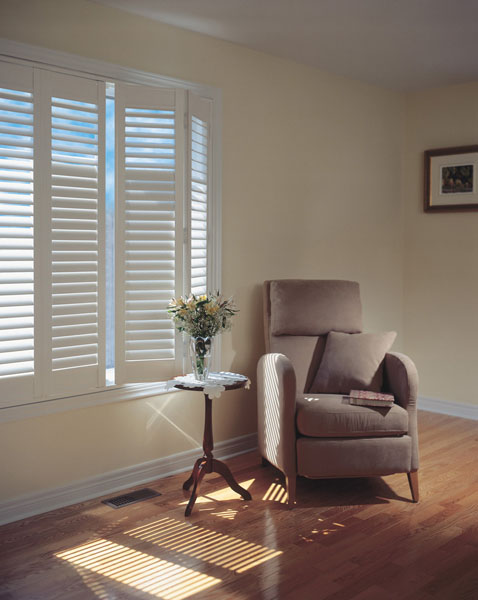 Luminaris shutters are reinforced with an aluminum skeleton delivering years of trouble free, maintenance free operation. All Luminaris Shutters are backed by our 15 year Limited Warranty.
Luminaris Vinyl Shutters are available in Two styles, Classique with the traditional pull bar, or our patented hidden gear mechanism called Perfect View. All are available in a choice of frames, and inside and outside mounts. Additionally, Luminaris Shutters are offered in 2 louver sizes and various colours to add character and warmth to any room.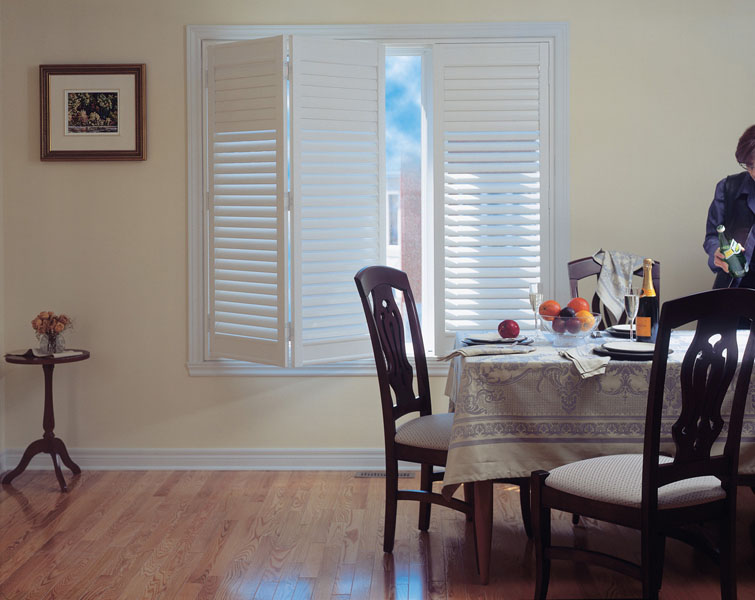 Perfect View:
The Luminaris Perfect View style shutter features its patented hidden mechanism for louver orientation. It is totally invisible as it is contained entirely within the stile of the panel. Another feature of Perfect View is the use of our Invisible Divider which separates the panel louvers without the use of a divider rail. All stiles and frames where hinges are located are aluminum reinforced.
All Luminaris Shutters with frames DO NOT USE MAGNETS!
A patented spring loaded button replaces the magnet and this feature is also used for our multi panel gliding system.
Classique:
The Luminaris Classique style shutter features its patented removable pull bar for easy cleaning. It simply pulls off and can be quickly snapped on again. The standard position for the pull bar is in the center, but it can be placed on the left side or right side on panels or even on the back. All stiles and frames where hinges are located are aluminum reinforced.


Luminaris Shutters Limited Warranty
Luminaris Shutters warranty covers any defects in manufacturing, finish and installation. For life. Our comprehensive warranty is backed by our 15 years experience in the shutter industry. The Luminaris shutter is so well-built that we rarely have to send out a repair crew.