Polywood Shutters
Polywood® Shutters offer living spaces a unique look and feel, making it one of the top shutter brands sold in North America. Exclusive to Amazing Window Fashions, Polywood® Shutters add uniqueness, style and value to your home, and compliment any sense of décor that may already exist in your space. Durable, easy maintenance, reliable and reasonably priced, Polywood® Shutters are the ultimate choice for shutter window treatments.
Giving a rich look of fine wood without wood's inherent problems, Polywood® Shutters perform better than traditional wood shutters. The benefits of Polywood® are endless, guaranteeing to never chip, crack, warp or split, the solid engineered shutters are the perfect wood substitute. Insulating up to 70% more effectively than other shutters, Polywood® will leave you worry free and smiling.
You can rest assured that when you purchase Polywood® Shutters, your product is going to last. UL tested and UV stabilized, Polywood® Shutters won't discolour, are fire resistant, impervious to termites and moisture resistant, making them a perfect fit for every space. Give your windows the treatment they deserve with Polywood® Shutters.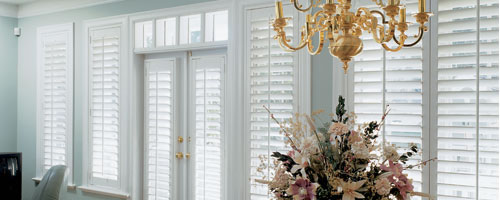 Polywood Benefits
Polywood® Shutters offer numerous benefits, but the greatest benefit Polywood® Shutters offer is how spectacular they look in your home or office. They add a touch of class unlike any other window treatment.
Polywood® Shutters will last a lifetime! They won't chip, crack, warp or split, and they are almost impossible to break. They are moisture resistant, so you can install Polywood® Shutters in bathroom windows, over the kitchen sink, or in coastal or humid climates. They are also fire resistant and impervious to termites.



Aluminum Reinforced

Epoxy Coated Fasteners

Louver Tension Control Pin

Insulates Better Than Wood and Vinyl
Lasts longer than every other window treatment: wood or vinyl shutters, blinds, shades, curtains, drapes, etc
More energy efficient than any other window treatment: up to 70% more than wood or vinyl shutters and 1600% more than aluminum mini-blinds
Comes with the industry's best warranty: Lifetime Protection against defects
Special baked-on paint finish with UV coating, so it will never discolour
Won't warp, split, crack or chip
Moisture resistant
Fire resistant
Termite resistant
Earth-friendly: made from recyclable wood substitute
Easy to maintain and clean. Just dust it like furniture or wipe with a damp cloth
Maintaining Your Shutters
One of the biggest benefits of Polywood® shutters is that they are very easy to maintain. All you have to do is to wipe them with a damp cloth, or dust them like the rest of your furniture. There are plenty of finishes and colours available to choose from for these shutters. However, if you wish to change the colour of your shutters, they can easily be painted again without any sanding. Polywood® Shutters offer you very clean and chic lines for your home. These shutters provide the elegance and class that you have always wanted to achieve for your home without any need for extensive maintenance. Because of all of these benefits, Polywood® Shutters are considered to be the best in the market today.
Polywood Shutters Colours and Options
| | | |
| --- | --- | --- |
| Bright White | Off White | White |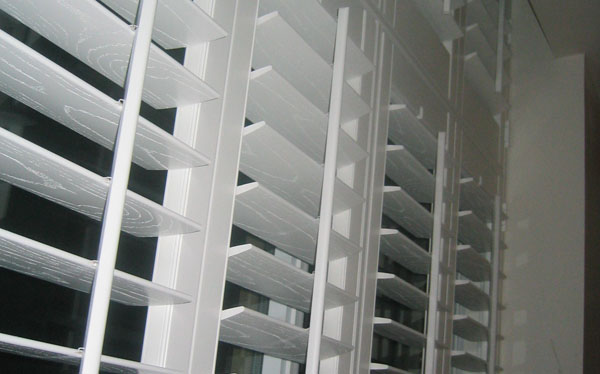 Grain
Polywood is available in both smooth and wood grain finish, with a selection of three colours – white, off-white, and bright white. Available in a paint-able finish without the need for sanding, and it's easy to clean – just dust it like furniture or clean smudges with a damp cloth.
The Polywood® Shutters wood grain texture is available only in 3.5″ and 4.5″ louvers, giving the shutters a real wood look.
Louver Colours and Sizes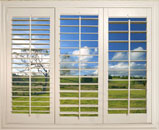 Polywood® Shutters are available in three standard louver sizes. If you have something special in mind, one of our sales representatives will be pleased to assist you with a custom colour configuration to complement your decor.
The louvers are available in:
2.5″ also known as California Shutters
3.5″ also known as Plantation Shutters
4.5″ also known as Ocean View Shutters
FineView Shutters

The most complete clear-lines to the shutter with no tilt rod in the middle. This new louver technology represents the evolution of the interior shutter, and adds a new variation to this popular window covering.
With the FineView shutter system, all the louvers are connected to one strip system concealed in the back of the shutter. This makes all the louvers move in unison, subsequently eliminating the need for a tilt rod in the middle.
Highest Energy Savings Shutter

Polywood® has been tested by multiple agencies and has been proven to have the highest R-Value, best thermal protection, best reduction of heat transfer, and offer the most energy efficiency of any shutter on the market.
If you want to save on your power bills, Polywood® is your shutter!
Satisfaction Guaranteed

Polywood® Shutter's warranty covers any defects in manufacturing, finish, and installation for life. Our comprehensive warranty is backed by our 25+ years experience in the shutter industry.
Polywood® Shutters are so well-built that we rarely send out a repair crew. With all other types of window treatments, visits from a repair crew are common. Choosing Polywood® means you'll never have to worry about your shutters.



Polywood® Shutters protect our national forests. In making a real wood shutter, more than 50 % of a tree is wasted before it even gets to your window. That's why Polywood® Shutters are made from a recyclable wood substitute. Not only do we save the forests, we also protect our oil reserves by making Polywood® Shutters from a by-product of natural gas, not a petroleum-based product. At Amazing Window Fashions, we care about the safety of the environment, so join us by supporting innovative, earth-smart products like Polywood® .