Drives Gear, Handle and Universal
The gear drive unit consists of hardened steel gears, permanently lubricated and fully enclosed in a sealed casing. The universal and detachable crank handle assemblies are constructed of stainless steel and chrome-plated brass with internal nylon bearings and nylon handle grips.
Motor and switch
The motors, manufactured by Somfy Systems Inc., are asynchronous, single phase, 120 volt, with solenoid activated braking, and thermal overload protection. They are tubular in design and fit within the reel (roller tube). All bearings and gears of the system are enclosed and permanently lubricated. Standard switch: toggle switch, momentary, in the color cream (double pole, double throw) unless otherwise specified (other types and colors are available). All electrical components are U.L. listed. Proper grounding of motor is required at voltage source.
Housings / Upper Housings
The upper housing is a pre-assembled, modular system. It is 4 sided (90°) or 5 sided (45°) in design and is enclosed (with the exception of the slat aperture) in a roll formed aluminum skin. Its finish consists of baked on polymer based enamel in colors matching the tracks. The front and lower portion of the housing is a detachable access panel. They are two piece coverings. The back covering is pop-riveted to the housing and fastened to the studs above the protected area. The front covering is attached to the housing with sheet metal screws and employs a track on the bottom to attach the storm bars, if stormbars are needed.
End Caps
The housing is supported at each end by die cast aluminum reel supports, which include stamped aluminum alignment plated and injection-molded nylon slat guides.

Tracks / Rails
Side Tracks
Side tracks are extruded aluminum 6063-T5 with a baked enamel finish. The tracks undergo a five-step pretreatment process prior to the electrostatic application of a high solid polyester based enamel. The finish is applied in accordance with AAMA Standard 603.8. All side tracks are lined internally with tightly woven polypropylene runners.
Split Tracks / Stormbars
Split Tracks are extruded aluminum 6063-T6. They are lined with polypropylene runners on the surface which contacts the slats. Spring loaded attaching mechanism and flush mount receptors are standard equipment.
The stormbars are constructed of thick extruded aluminum channels with an aluminum key at the bottom and spring loaded aluminum key at the top. The stormbars utilize two rows of 0.15" high by 0.27" backed poly pile weather-strip.
Differently shaped stormbars besides the I-Beam are available.
Slats
The following standard Slat types are available: (please call for special slats)
Magnum: Hurricane Rated – Extruded Aluminum. End Retention
Barracuda: Hurricane Rated - Extruded Aluminum. End Retention
RCE 40: Hurricane Rated - Extruded Aluminum
Bertha 58: Hurricane Rated - Extruded Aluminum. End Retention
RC 55: Security and Energy Saving and Privacy – Foam Filled – Large openings
RC 42: Security and Energy Saving and Privacy – Foam Filled – Medium openings
RC 37: Security and Energy Saving and Privacy – Foam Filled – Small opening
Installation
Installation must be performed in accordance with local code requirements. All exposed assembly and attaching hardware is 18-8 non-magnetic stainless steel.

Color Selections
Upper Housings, Tracks and Slats come in white, cream, light beige, brown, gray and black.
The Retractable Insect Screen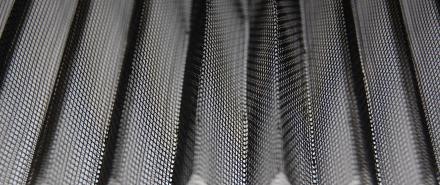 The roller track system recoils back into the vertical bars when being pushed closed. This patented technology allows for wide spans and a modular design.

The system has a caterpillar like track that will only be present, when the screen is closed, thus keeping the screen mesh in place. When openening, it retracts and disappers into the handles, leaving only a very small track at the bottom. This is child friendly as well as wheel chair friendly, eliminating the tripping hazard of other recoiling screens.
The screen mesh we use is s 100% recyclable PP polypropylene mesh.
Components
We use high quality components, such as coated aluminum and PVC.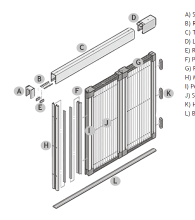 Small End Cap
B) Roller Catch
C) Top Track
D) Large End Cap
E) Roller Catch Holder
F) Pull Bar Magnet
G) Rollers
H) Magnet Wall Catch
I) Pull Bar
J) Screen
K) Hold Back Clips
L) Bottom Track
ACCORDION SHUTTERS
The Alutech United Folding Accordion shutter is the most economical and feature packed shutter available on the market today.
Key Features
All Extruded Aluminum Construction
5-Point Locking Security System
Silicone Impregnated Wheel Carriages
Xylan Coated and Stainless Steel Hardware
4/5 Standard Colors
Economical
Dade County Approved Designs Available
Mechanically Bent radius tracks to fit any shaped balcony
The Vertical Interlocking Blade system gives stability and strength even in the worst possible weather conditions. Each Blade interlocks into the next with a sure locking design and are made from Heavy Duty Extruded Aluminum.
All hardware is Xylan coated to prevent rust and oxidation. Each Accordion shutter is made with Engineered Wheel Carriage assemblies in the top. These wheel carriages utilize silicone impregnated wheels for easy gliding within the top mounted extruded aluminum tracks. This makes even very large shutters easy to open and close.

The Accordion Shutter system also comes with a 5-point locking system that gives maximum security to the covered opening.
The key lock uses a special numbered key unique to each shutter.
Vertical Locking pins are also engaged into the tracks for security and rigidity when the shutter is completely closed.
Accordion shutters are used to enclose entire balconies, to cover sliding glass door and even cover all rectangular windows. The Alutech United Accordion shutter can be custom tailored to you needs.
We offer Window Lites that allow light through the shutter and Mechanically Bent Tracks for odd shaped balconies. The Bent tracks allow the shutters to better fit your balcony layout to maximize valuable deck space or can be used to cover Bay style windows.
SUN STAR ROLLER SHUTTER
The Sun Star roller shutter is operated by a tubular motor with a built- in torque limit switch. Every Shutter is motorized. The Rolling Shutter rolls from top to bottom.
The tube has a wheel bracket at each end which are mounted to adjustment plates, that have been pre-set based on the slope of the roof.
The curtain is moved in the housing along the Teflon half cradle due to the moving roller shutter axle.
Housing
Roll formed, baked enamel aluminum profile, 45° angled on one corner end caps made of thick die cast aluminum
Guide Rail
Extruded, powder coated aluminum profile with rubber inserts to reduce friction
Bottom Stop Sill
Extruded, powder coated aluminum profile located along the lower edge of the shutter
Curtain Slat
Roll formed, foam filled, baked enamel aluminum profile (vented or non vented).
Glide Profile
Extruded, powder coated aluminum profile with rubber inserts and pre-drilled mounting holes. It is mounted above existing structural joists or T-bars. Maximum span width of gliding profiles: approx... 4'
Stabilizer Strut
Extruded, powder coated aluminum profile with felt. Used in shutters over 102" in width
Side Base Plates
Extruded, powder coated aluminum profile
Operation
Motor Data
Tubular Motor (Siral)
Voltage 110 V
Power 175 Watts
Strength of the electrical current 0,78 AMPS
Speed 12 RPM
Torque 30 NM
Torque Limit switch is adjustable in both directions to control upper and lower stop positions.
Connecting Cable
With connector at motor
Cable color: white
Cable lengths: 3', 9', 15' and 30'
Cable exit at the side of the motor
Interior Switch
Momentary 3 Position Rocker Switch is standard
(Maintain switches available upon request)
Standard cover plate is cream.