Advanced Automated Honeycomb shades are elegant, colour coordinated, available in a wide range of colours, and fully compatible with the controls for Qadvanced Roller Shades.
Dual operation for manual and remote control
Colour coordinated head and bottom rails
Headrail faceplate removes for battery access
Uses standard D cell Batteries
Battery life expectancy up to 3 years
Easy battery replacement
As an added convenience to our customers, QMotion supplies and places the batteries inside the tube, which ultimately saves time for installations and the added cost of batteries. QMotion cannot guarantee the shelf life of the batteries and individual battery life is dependent on many factors. If you happen to notice that your shades are not working or are starting to run slower than normal, it may be time to replace the batteries. We suggest you check the voltage level of each battery and replace as needed. QMotion shades use standard off-the-shelf D cell alkaline batteries.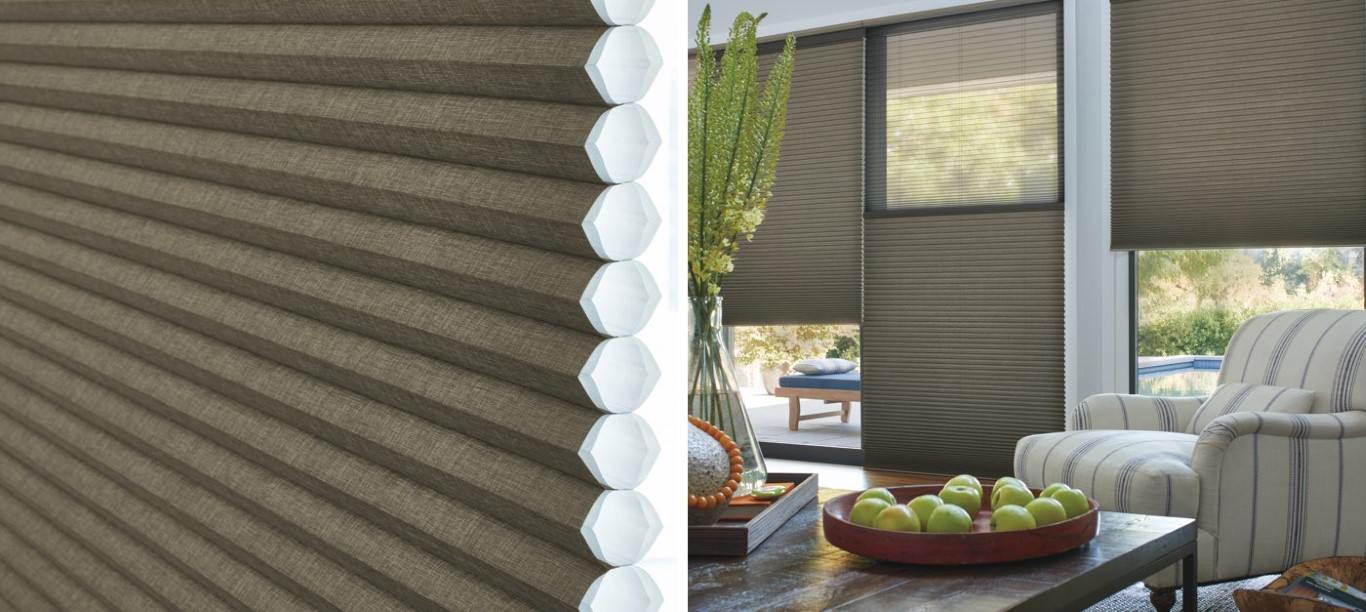 Honeycomb shades know how to make an impression — in the right way. Available in more than 80 designer fabrics and style options, you can find the right look for any space, and our sleek, sophisticated designs ensure wires and battery wands always stay tucked out of view.
These shades are spring-counterbalanced, meaning they're nearly silent and two to three times as efficient as other systems. honeycomb shades can reduce overall energy costs, too, by keeping rooms cool in summer and warm in winter.
QMotion honeycomb shades can be operated by remote control, smart phone or tablet or with our patented manual override feature.
Automated Honeycomb Shades
You can Operate your automated honeycomb shades with a remote, you're smart phone or tablet, or manually. With QMotion's exclusive manual override feature, a slight tug on the bottom of the honeycomb shade will energize the motor and the shade will move upward. Similarly, by pulling down on the automated honeycomb shade, it can be adjusted to close without using the remote control.
In addition to the elegant collection of functional and attractive fabrics for QMotion shades, the automated honeycomb shades come with one of nine colour coordinated head-rail covers and bottom rails and are a 'sweet' addition to any home or commercial space. Boost energy savings by incorporating a timer remote, that allows shades to adjust based on a pre-set schedule.
Honeycomb Qadvanced
Qadvanced Automated Honeycomb shades are elegant, energy-efficient and available in a wide range of colours.
Dual operation for manual and remote control
Colour coordinated head and bottom rails
Head-rail face-plate removes for battery access
Uses standard D cell Batteries, Battery life expectancy up to 3 years, Easy battery replacement.
Select your fabric from Sheer, Sami-transparent, Room darkening.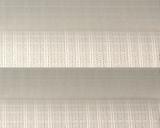 Sheer
Enjoy light management and colour with our most "see-thru"
fabrics. Sheer honeycomb fabrics offer limited privacy, but decorate and allow
natural lighting to assist in an energy efficient design. These sheer shades
add elegance to any view.
Semi-Transparent
Add privacy, insulation, and colour to your window with Semi-transparent
honeycomb fabrics. These fabrics, which include printed styles as well as
attractive solid colours, allow some light to pass through, but offer increased
privacy.
Room Darkening
Honeycomb room darkening fabrics will block all the light at the shade.
Some light may pass around the sides of the shades, but these materials offer
the greatest light blocking capabilities available in window fashions.